Regular price
Sale price
$28.00
Unit price
per
Sold out
For dogs and puppies | all ages
Rebalances the intestinal flora from the very first uses. Soothes significant intestinal issues caused by stress (adoption, changes in food or other environmental stressors).
Paste in a dispenser - 15 g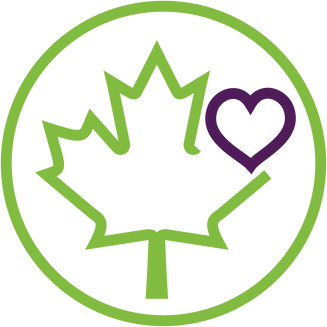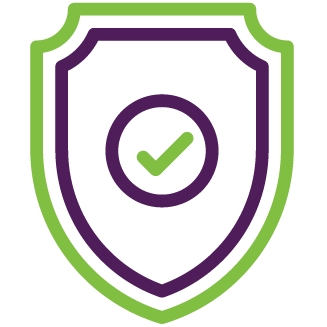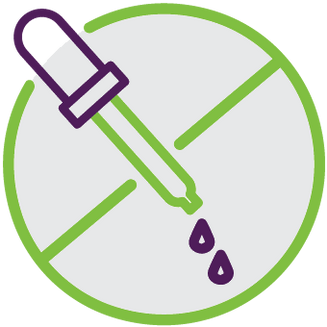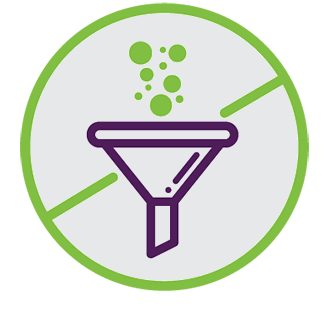 View full details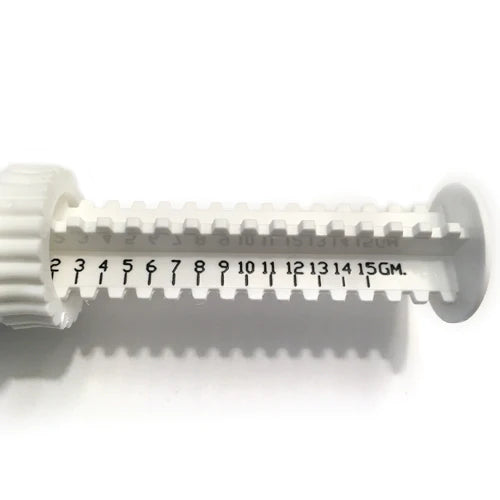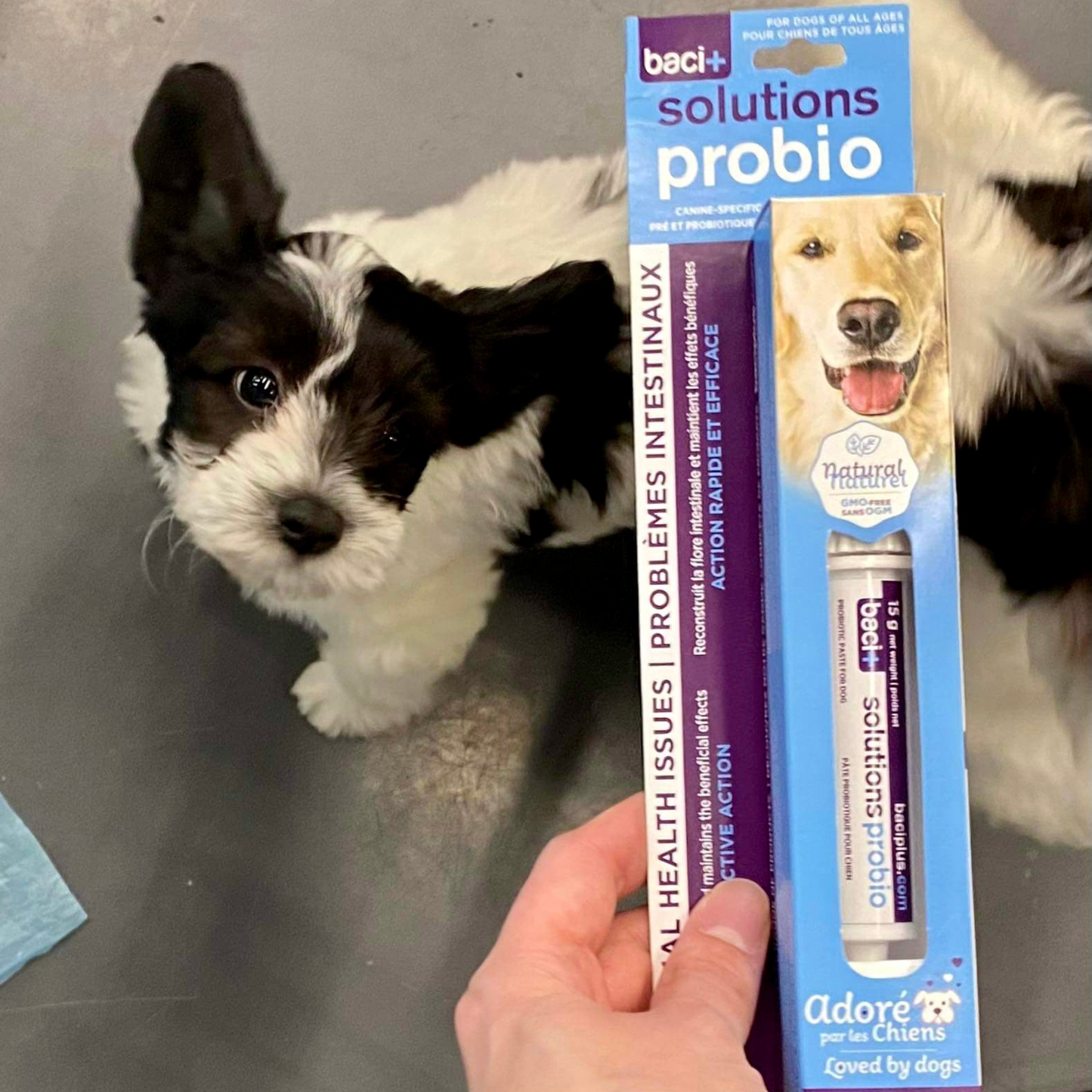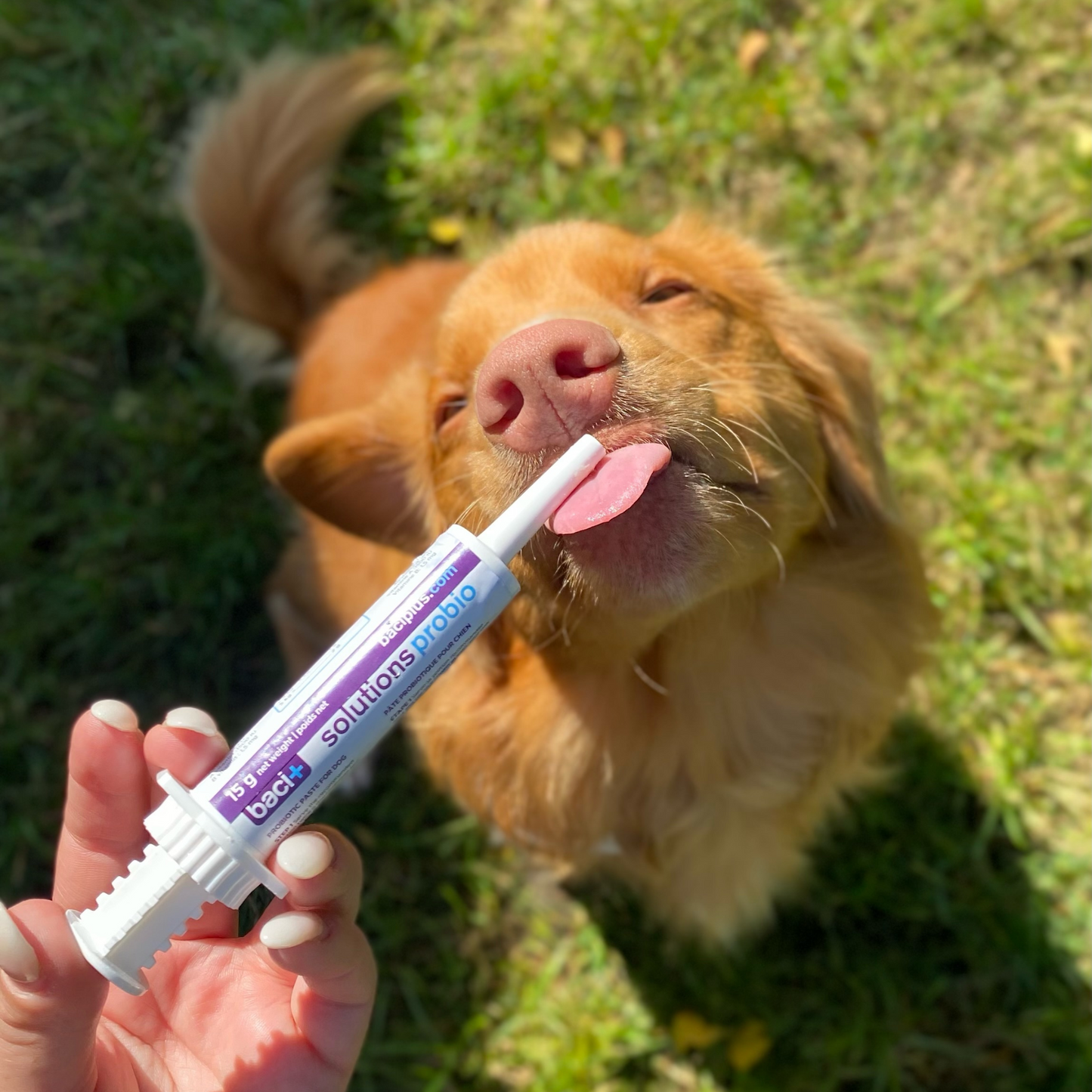 Supports your dog during intestinal problems

solutions probio is ideal to support your dog or puppy during stressful situations such as :

- Weaning

- Antibiotic treatment

- Diarrhea and loose stool

- Environmental stress

- Inappropriate diet

- Moving, transportation and boarding

Effective from the very first use

Natural formula effective in case of intestinal problems :

- Regulate loose, foul-smelling stools and flatulence

- Rebalance the intestinal flora and maintain it healthy

- Help maintain the health of the intestinal flora during environmental stresses (adoption, moving, transportation, antibiotics, and boarding)

- Minimize problems due to inappropriate diet

- Help maintain healthy skin and coat and immune system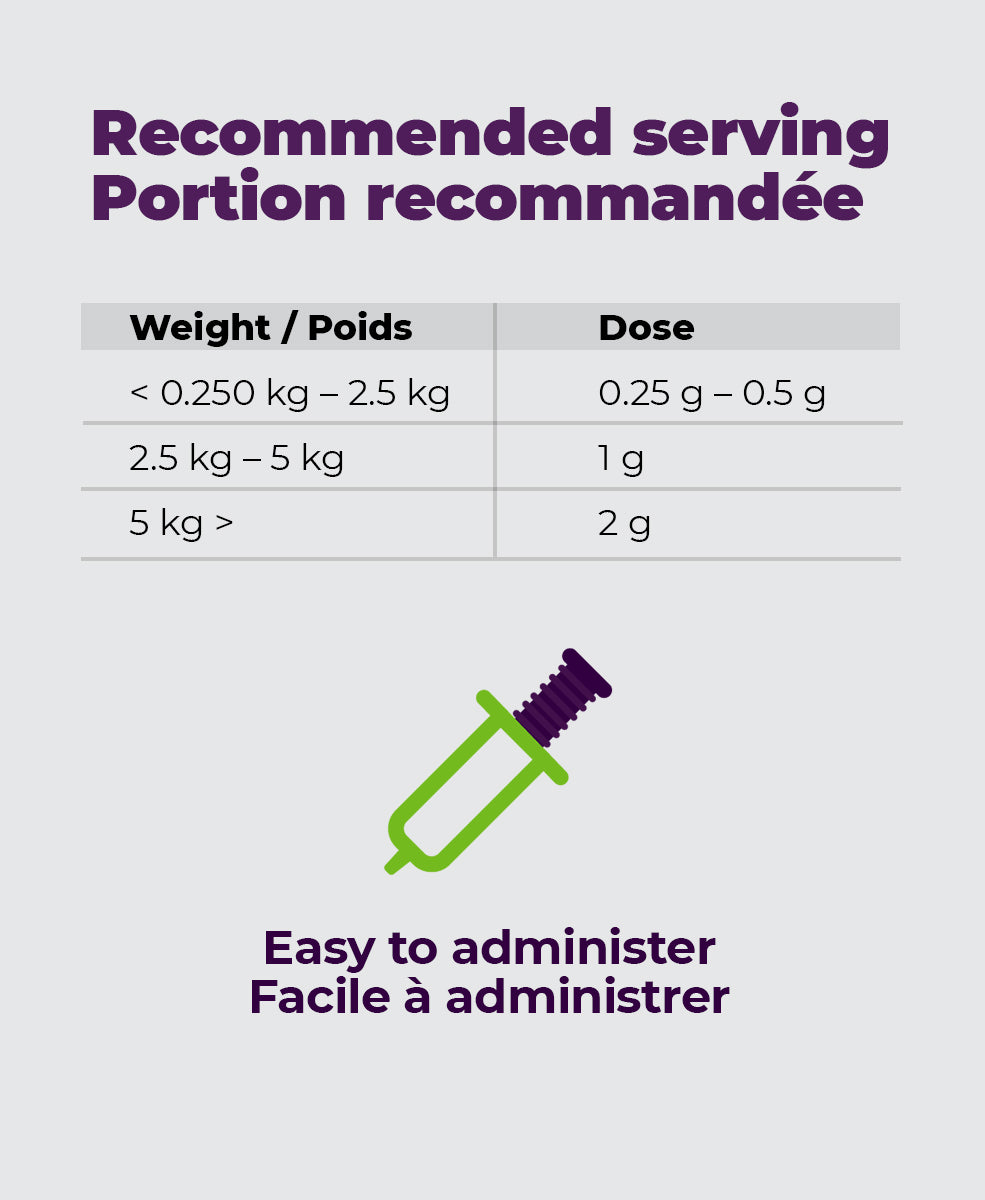 Ingredients
Vegetable oil, dried egg yolk, cultures dehydrated of: Bacillus subtilis, Lactobacillus acidophillus, Pediococcus pentosaceus,Bidobacteria longum and Saccharomyces cerevisiae culture dehydrated, mannan-oligosaccharide, fructo-oligosaccharide, A vitamin, B vitamins, sodium aluminosilicate, potassium sorbate.
Guaranteed analysis per gram:
- Lactic acid bacteria: 50 million CFU Bacillus subtilis spc: 1 billion CFU Saccharomyces cerevisiae: 40 million CFU A vitamin :1500 IU B vitamin : 1,5 mg
Directions
STEP 1 : Serve the recommended portion twice a day (morning and evening), for a period of two days.
STEP 2 : On the third day, serve the recommended portion once a day, for three days.
HOW TO USE THE DISPENSER: Simply turn the wheel until you reach the next line, then press the paste out of the tube. Each line represents 1 gram.

Mix with the dog's food or apply on their front paws or on the end of their muzzle.
- Store in a cool, dry place.
- Do not refrigerate.

- Adjust the dosage and frequency as needed. If the problem persists or if the animal experiences undesirable effects, discontinue use and consult an animal health specialist or veterinarian.
All baci+ products are safe to use together, for optimal overall health.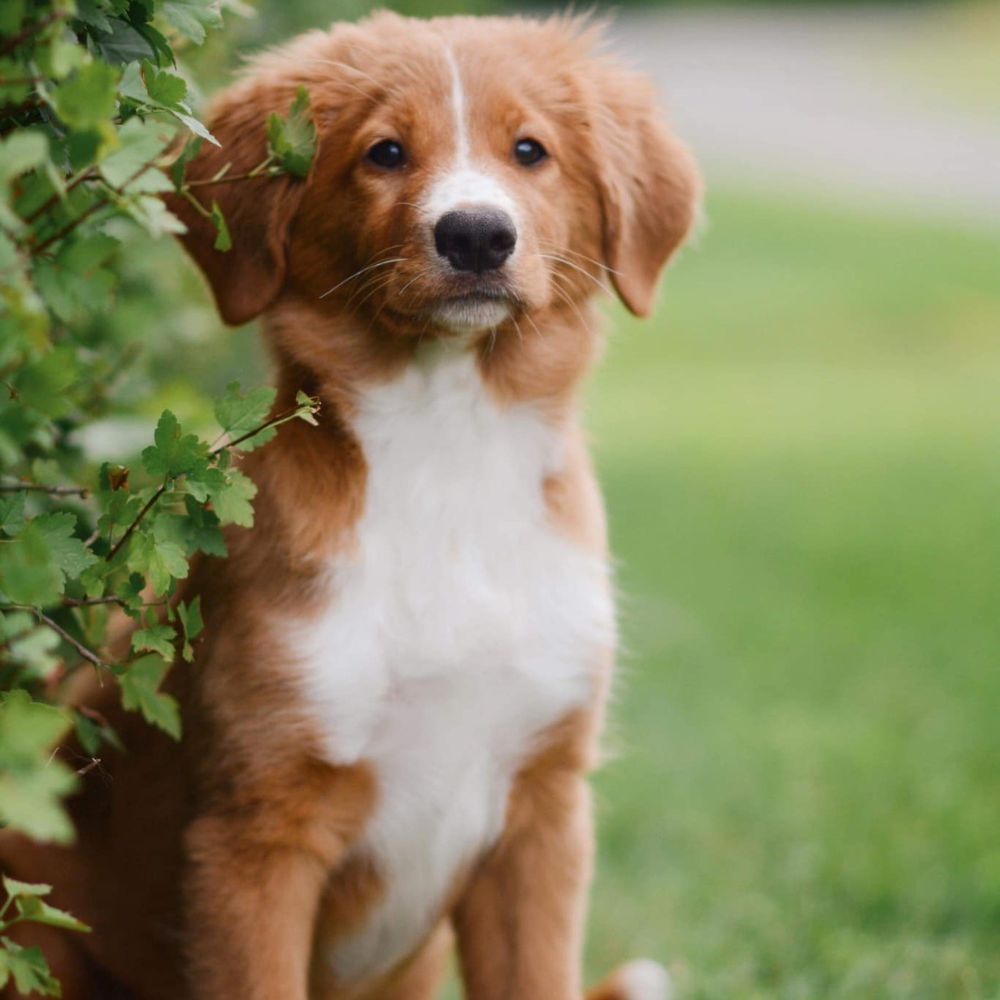 Microencapsulated for maximum effectiveness
Beneficial probiotic bacteria are living microorganisms that are vulnerable to the digestive juices in the mouth and stomach. To ensure that they survive the trip to the small or large intestine and remain fully effective, we envelop our probiotics in a protective membrane, in a process called microencapsulation.
The baci+ difference : :
Top-quality functional ingredients
Probiotics selected specifically for dogs
Ethically tested
100% natural
GMO-free
Quick-acting
Easy to measure dosage and to administer
Safe
No aftertaste, no artificial flavours (does not affect your animal's food consumption)
solutions probio paste
Regular price
Sale price
$28.00
Unit price
per
Sold out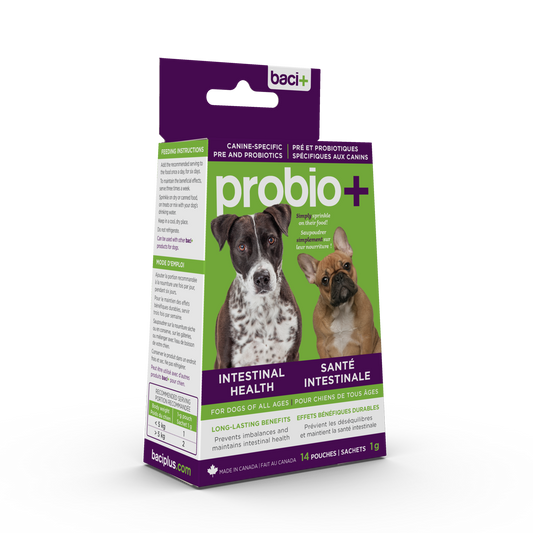 probio+
Regular price
Sale price
$22.00
Unit price
per
Sold out