Regular price
Sale price
$23.00
Unit price
per
Sold out
" Less stiffness in her legs when she wakes up " - Michelle
For dogs | adults and seniors
3 in 1 is a triple-action supplement for healthy aging. For dogs that are getting on in years or are already showing signs of aging.
Powder formula | 2 formats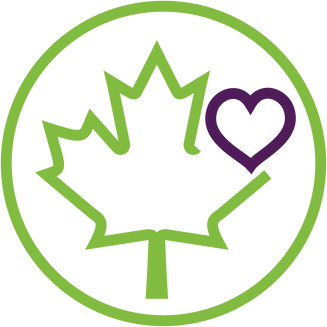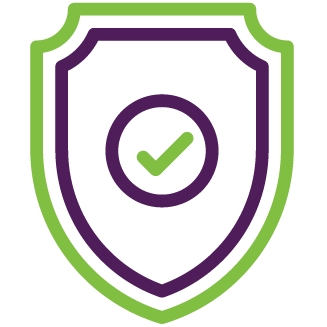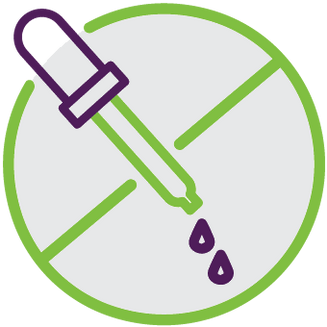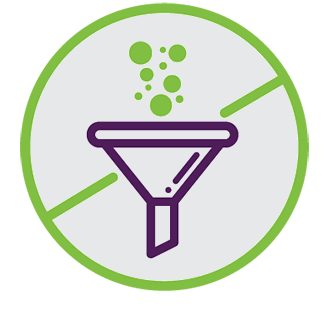 View full details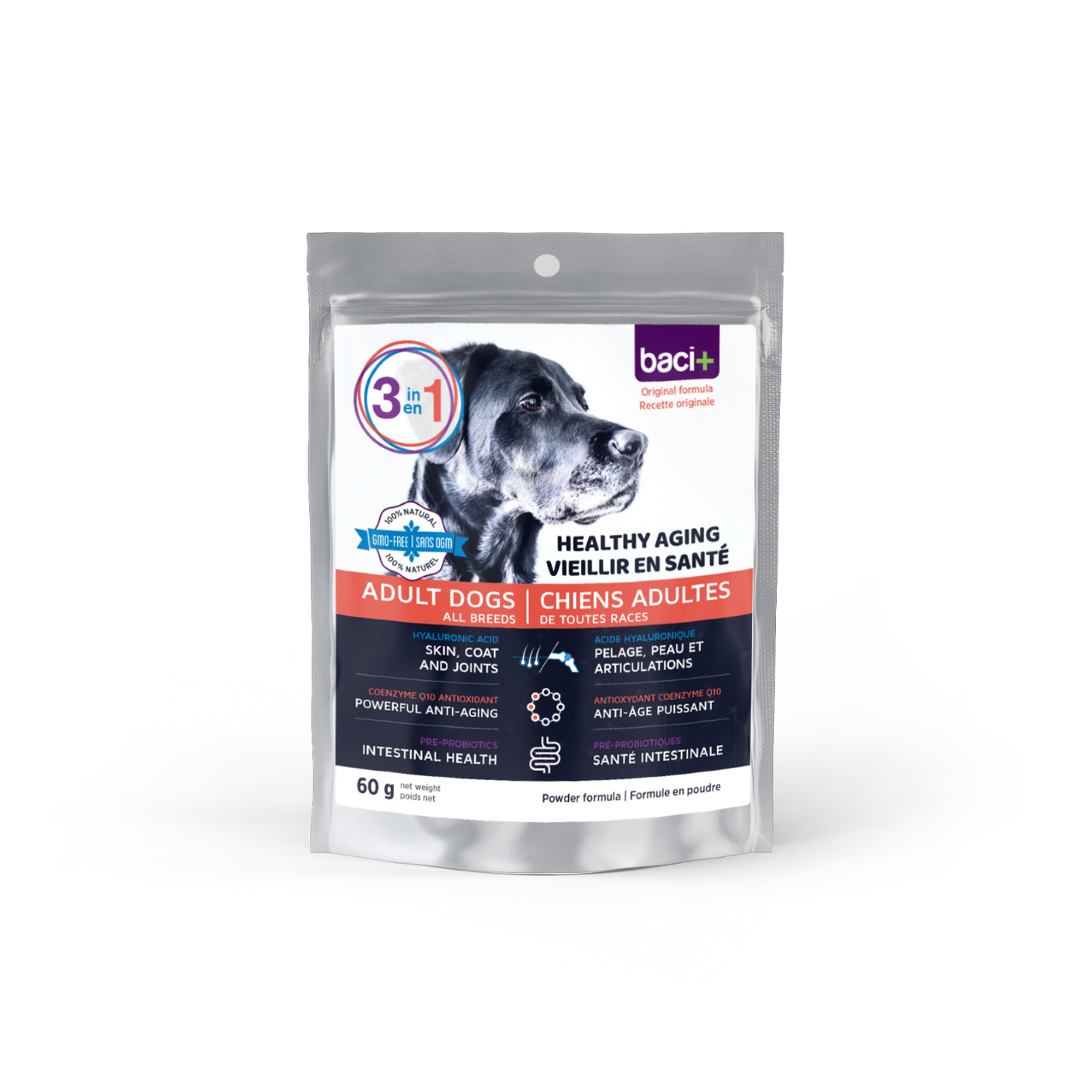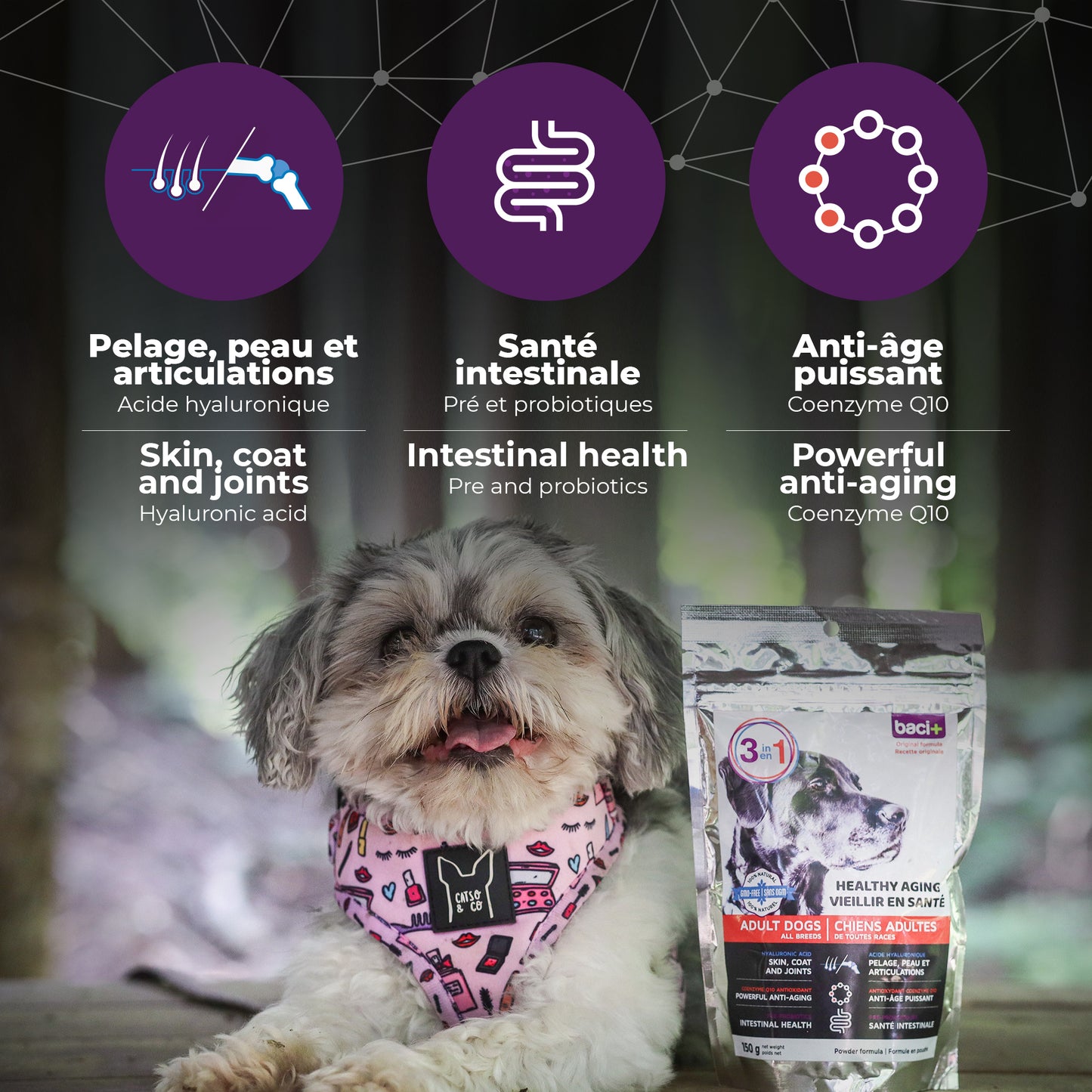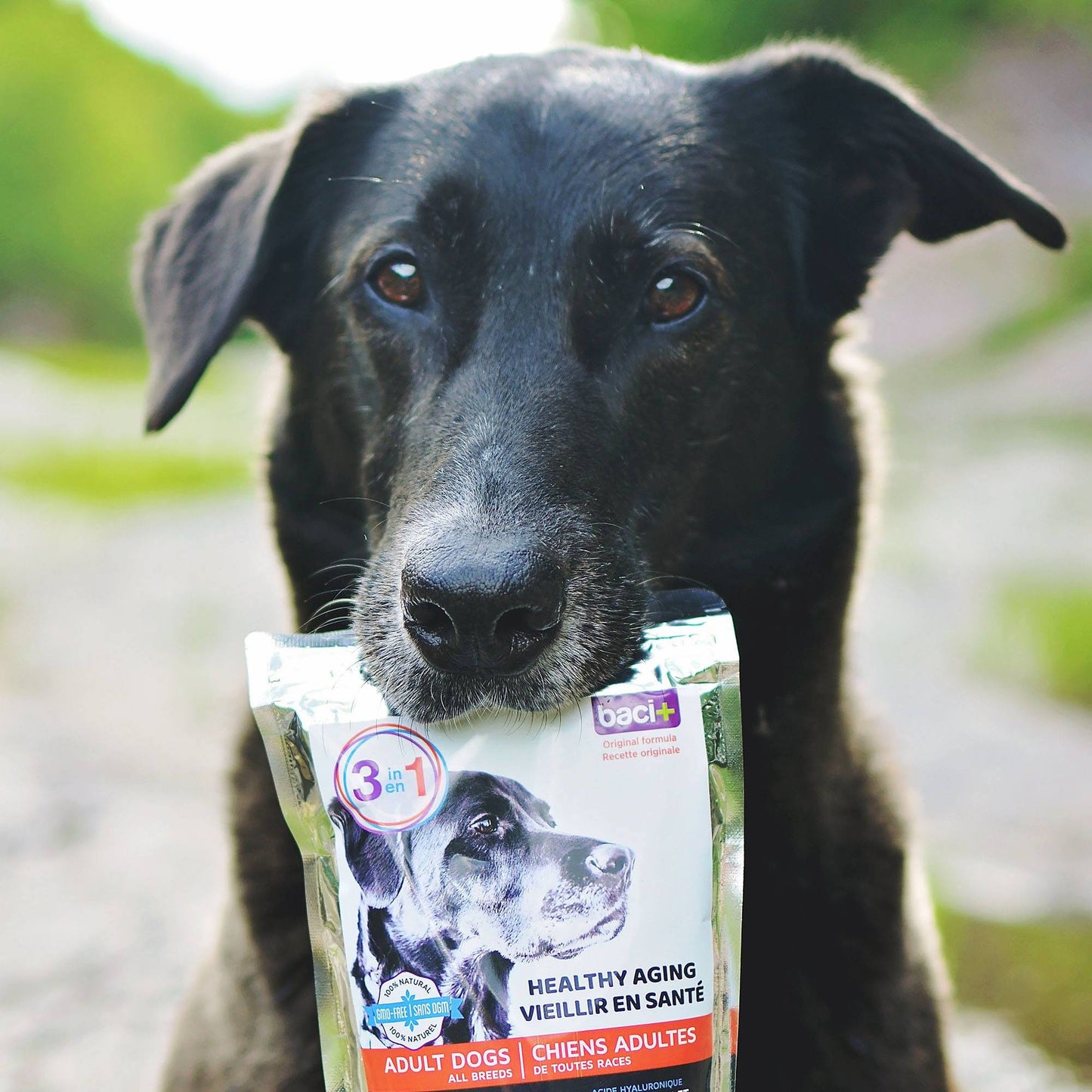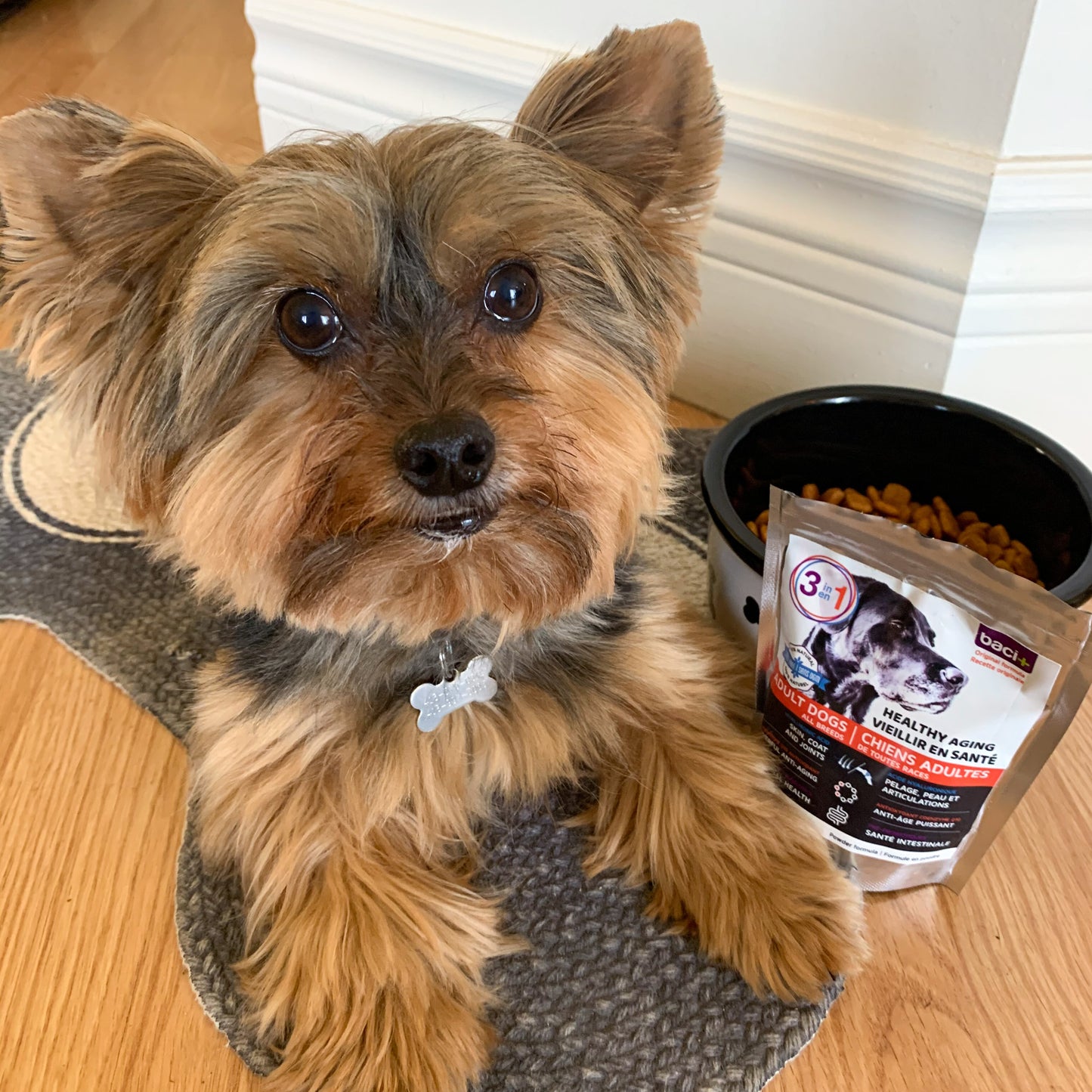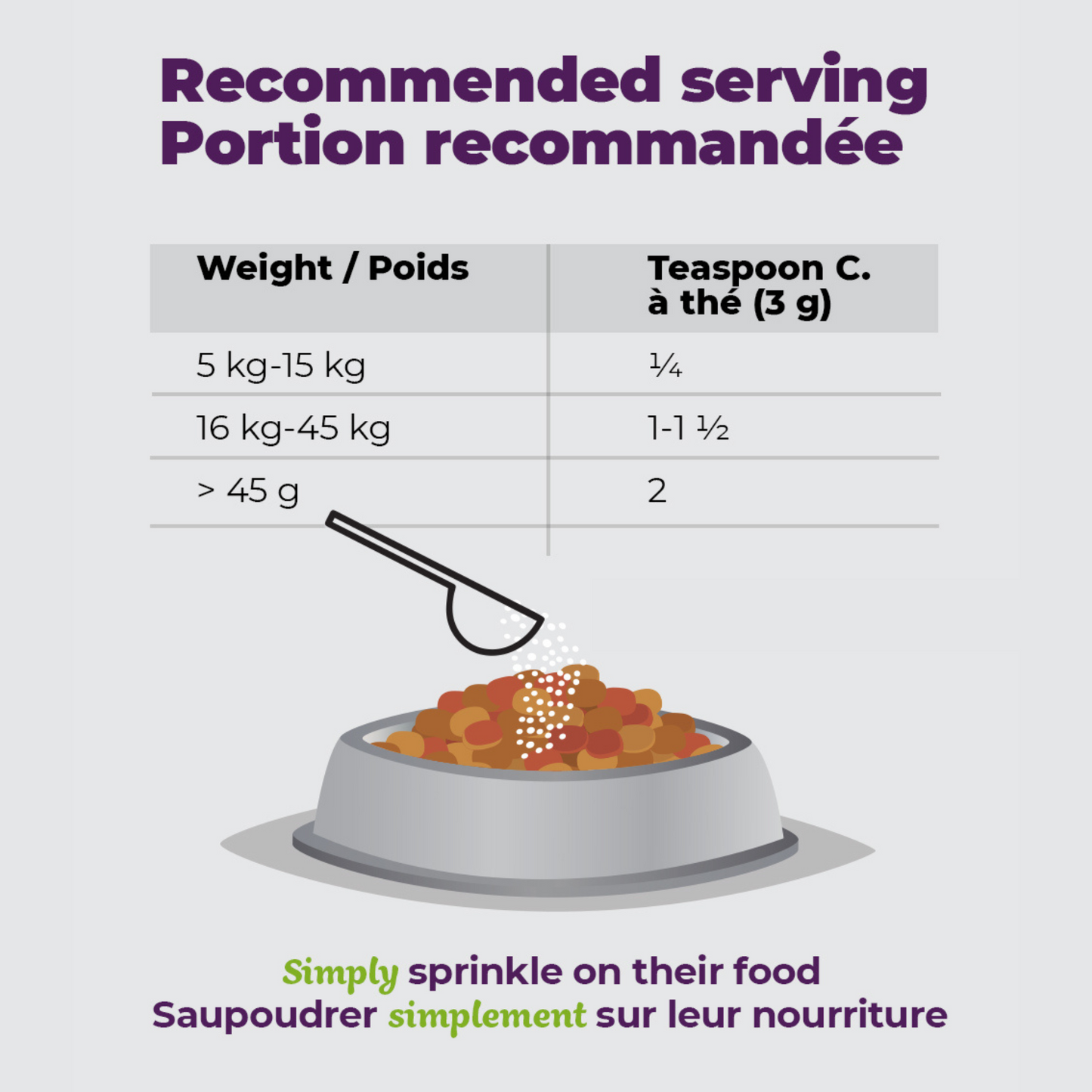 For a healthy aging dog

For dogs that are getting on in years or are already showing signs of aging :

- Less endurance at play

- Fewer interactions with the family

- Dull coat and hair loss

- Loss of suppleness

- Reduced mobility

- Weight loss or gain

Natural, effective and original recipe

Our 3 in 1 solution is effective for :

- Slowing and reducing the effects of aging

- Preventing and easing joint issues (suppleness and mobility)

- Promoting healthy skin and a shiny coat

- Reducing hair loss

- Optimizing the metabolism and ensuring the animal's overall vitality

- Helping reaching and maintaining a healthy weight

- Maintaining a healthy heart and nervous system

- Rebalancing the intestinal flora and keeping it healthy

- Strengthening the immune system

- Increasing the natural enzymes

- Optimizing the benefits of the food given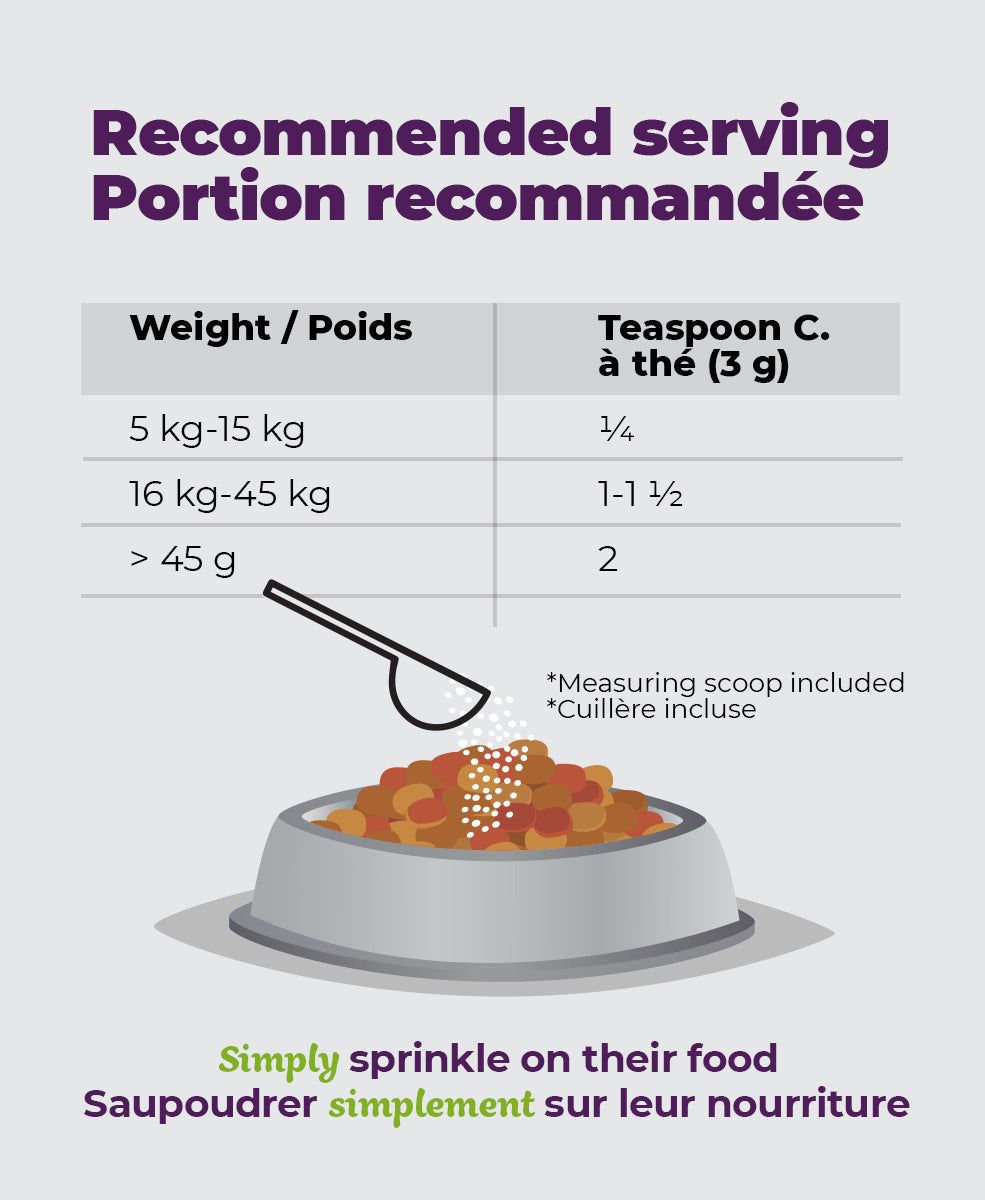 Ingredients
Probiotics (dehydrated cultures of Bacillus subtilis), Pharmaceutical-grade prebiotic fibre, Product of naturally fermented Bacillus (mucopolysaccharides), Coenzyme Q10.
Guaranteed analysis per gram:
- Ubiquinol (Co-Q10): 20 mg
- Bacillus subtilis: 1 billion CFU
Directions
Add the recommended serving to the dog's food 2 times a day (morning and evening), for 7 days.

After the 7-day period, add the recommended serving to the animal's food once a day.

You will notice a marked improvement in your pet's health in the first 2 weeks of use. For optimal results, we recommend using for 60 consecutive days.
- Do not give to animals that are gestating, lactating, undergoing anticoagulation therapy or chemotherapy.
- If the animal experiences undesirable effects, discontinue use and consult an animal health specialist or veterinarian.
- Keep at room temperature, in a dry place. Close the bag immediately after use.
- void contaminating the product.

All baci+ products are safe to use together, for optimal overall health.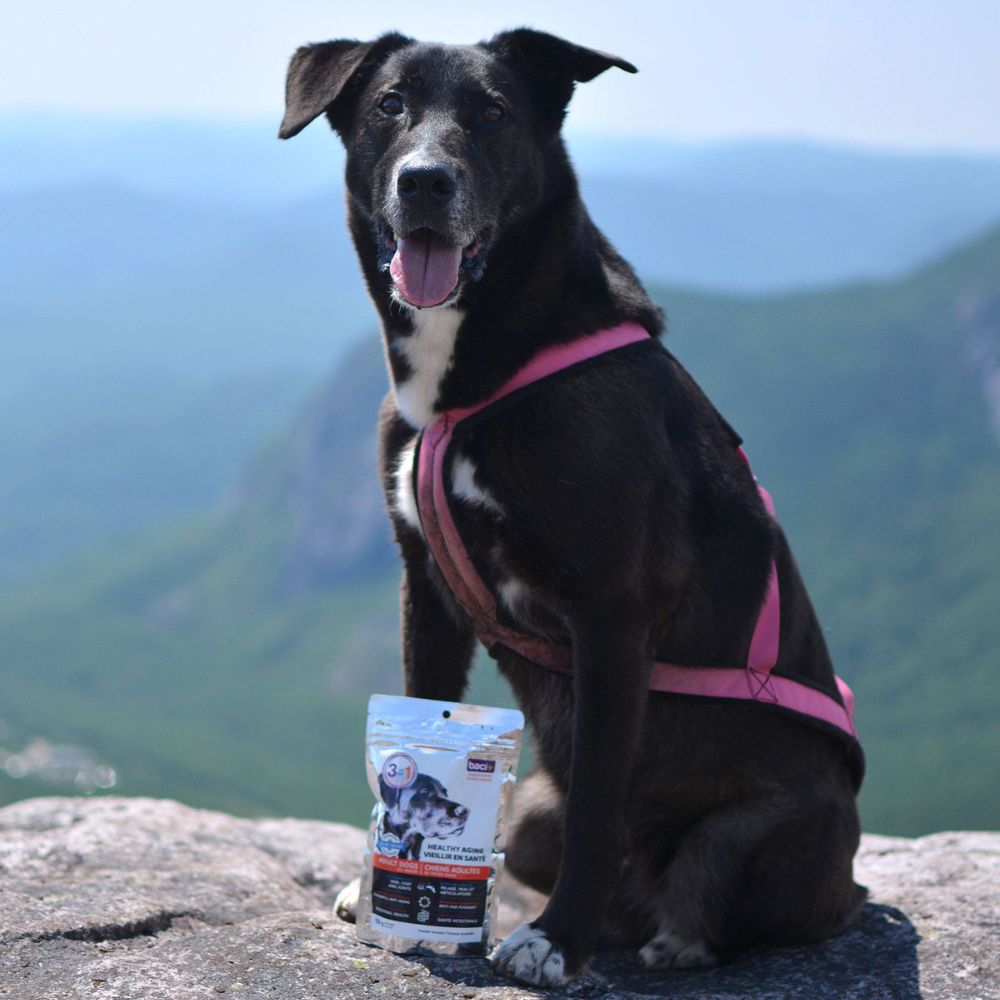 3 ingredients for optimal health
HYALURONIC ACID (skin, coat and joints)
- Joint lubrication and suppleness
- General mobility
- Tissue hydration and cohesion
- Skin and dermis health
PRE AND PROBIOTICS (intestinal health)
- Healthy intestinal flora
- Better absorption of nutrients from the daily diet
- Optimized immune system and enzyme production
COENZYME Q10
- Healthy heart and nervous system
- Protection from free radicals
- Optimized metabolism and overall vitality
- Anti-aging effect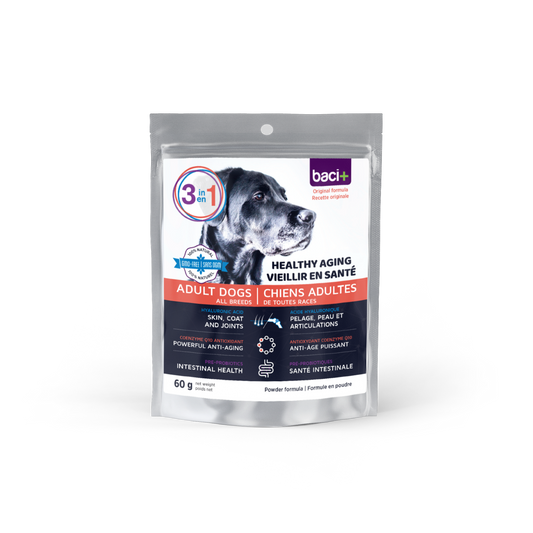 3 in 1
Regular price
Sale price
$23.00
Unit price
per
Sold out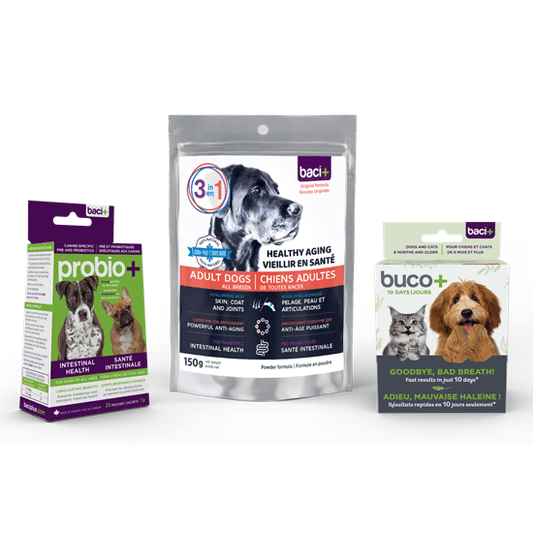 care kit for aging dogs
Regular price
$81.00
Sale price
$79.00
Unit price
per
Sold out
Testimonials
My pups recover easily after a long day at the beach or in the forest

" I've been using it for 4 years! My pups recover easily after a long day at the beach or in the forest "

- Luc

He can even jump into the car, something he had never done before!

" I remember a dog that was overweight and fragile just five months ago. A dog without much joy of life. Then he came to our family. The good food and support of the 3-in-1 in support of his joints and coat have greatly improved his life. He can even jump into the car, something he had never done before. In 2 years now, this dog has never been as fit as now! "

She's wants to play again!

" Our 9-year-old Yorkshire had lost the joy to play with her toys and had joint pains. After only 3 weeks of use we saw a difference. Everyday, Snooky regained the joy to move! Since then, I've been giving it to her daily and she is in great shape. "


- Michelle