Regular price
Sale price
$41.00
Unit price
per
Sold out
"Really effective! I saw a big difference on my dog's teeth. I recommend it without hesitation" - Francine
For cats and dogs | 6 months or older
buco+ is a 100% natural supplement, effective in preventing and reducing oral problems such as bad breath, tartar and plaque.

Simply sprinkle on your pet's food for fresh breath, healthy teeth and gums without brushing.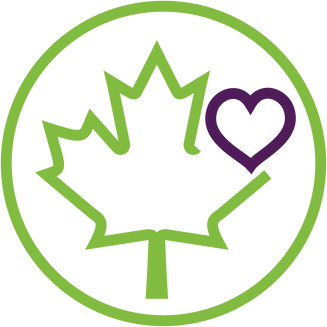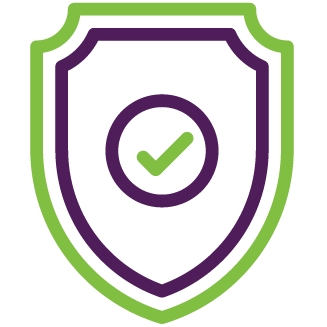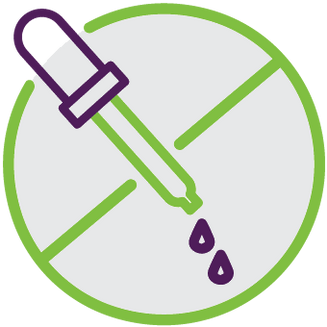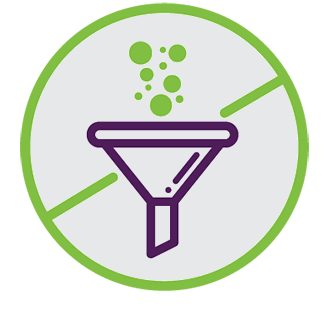 View full details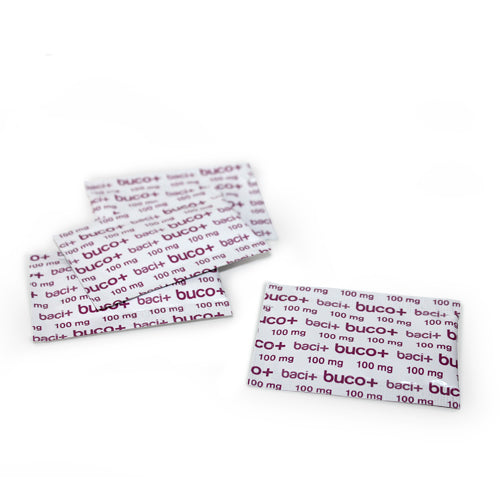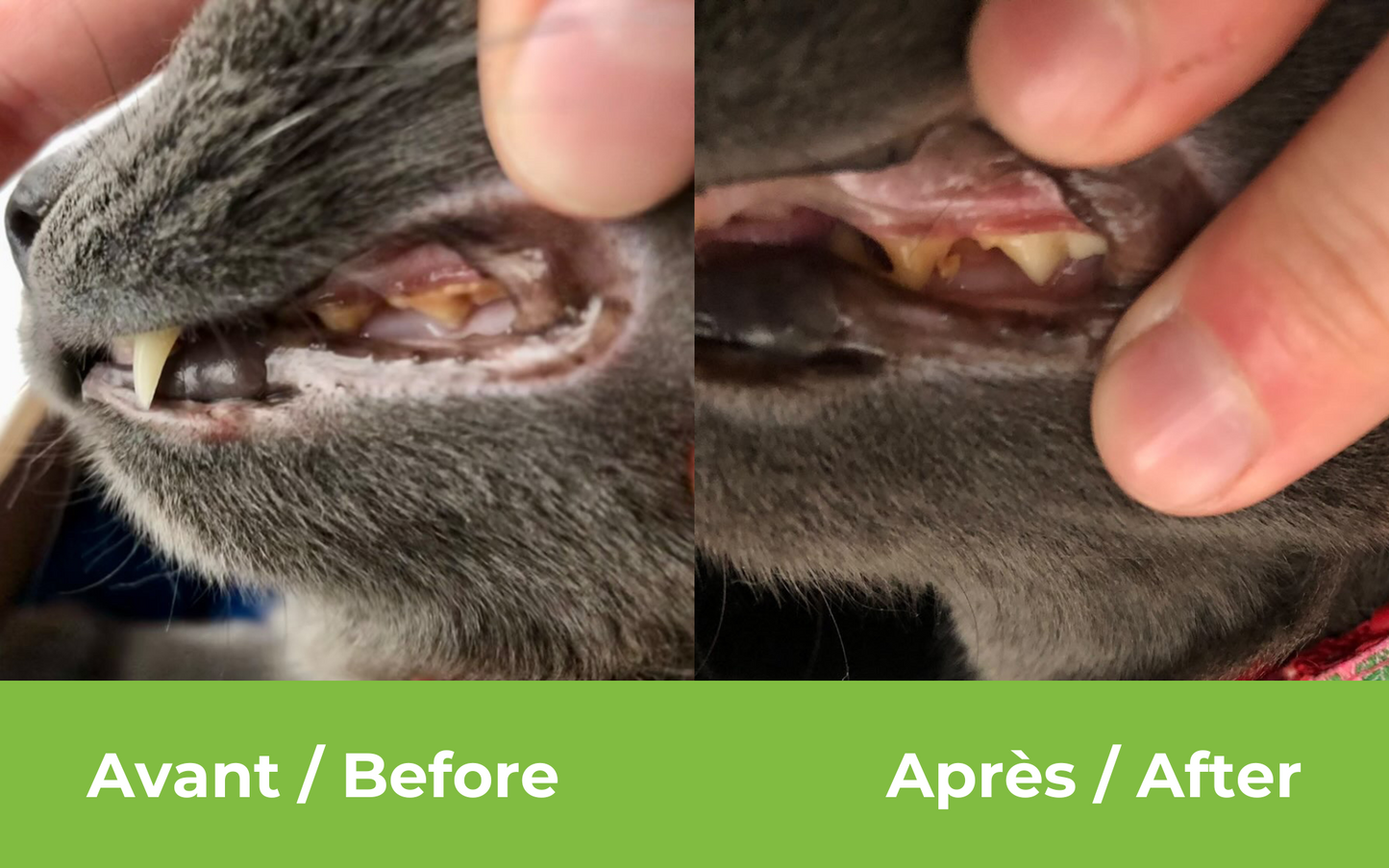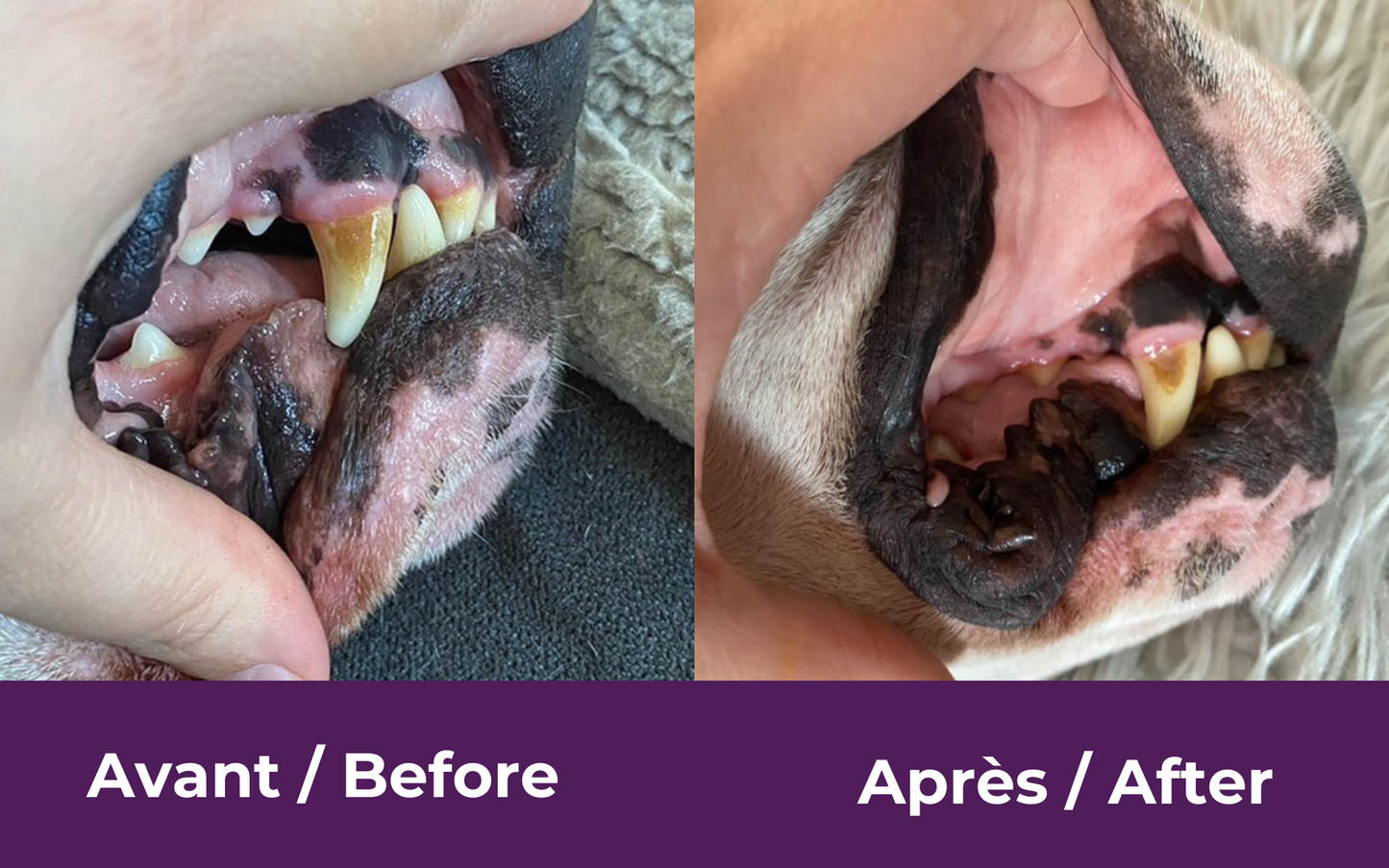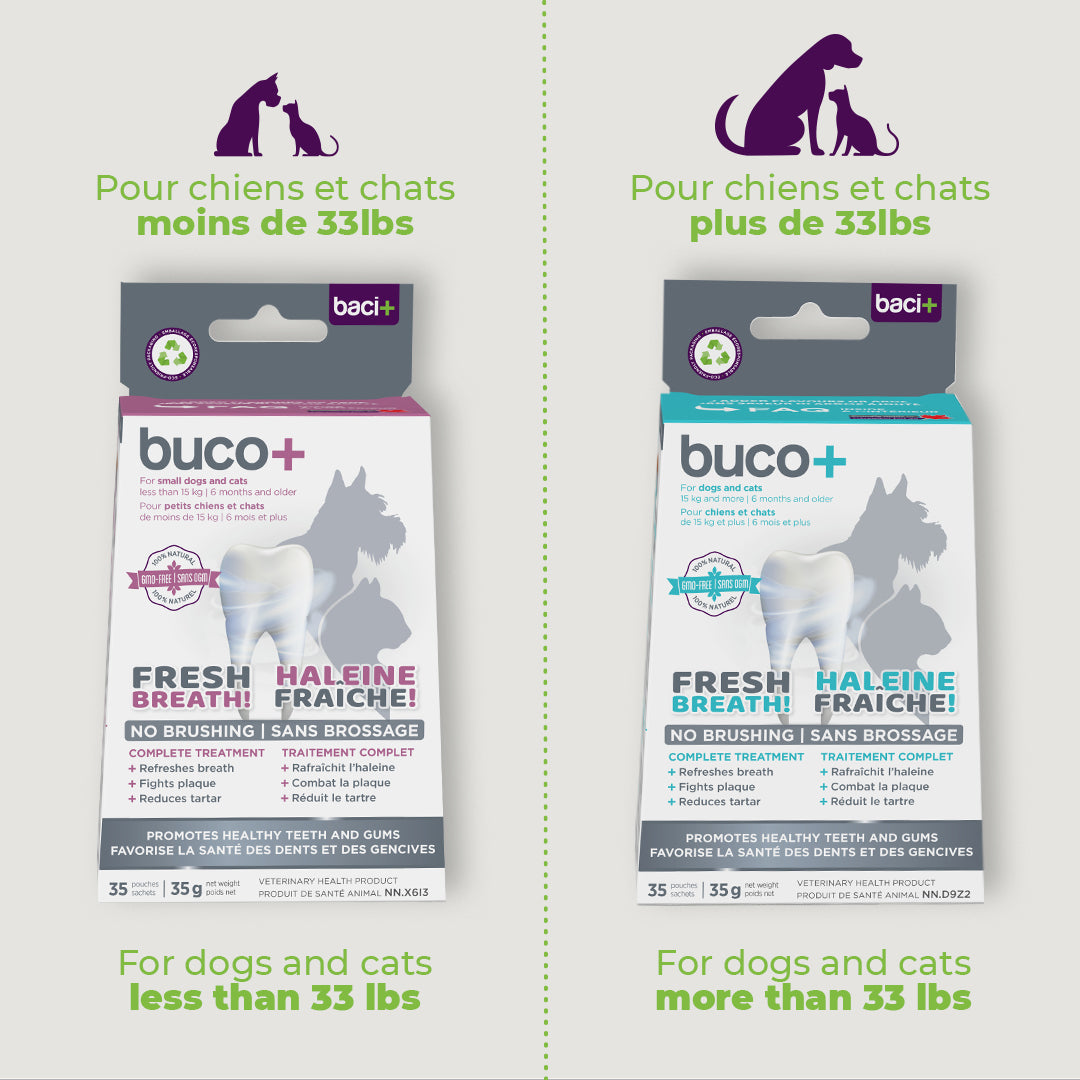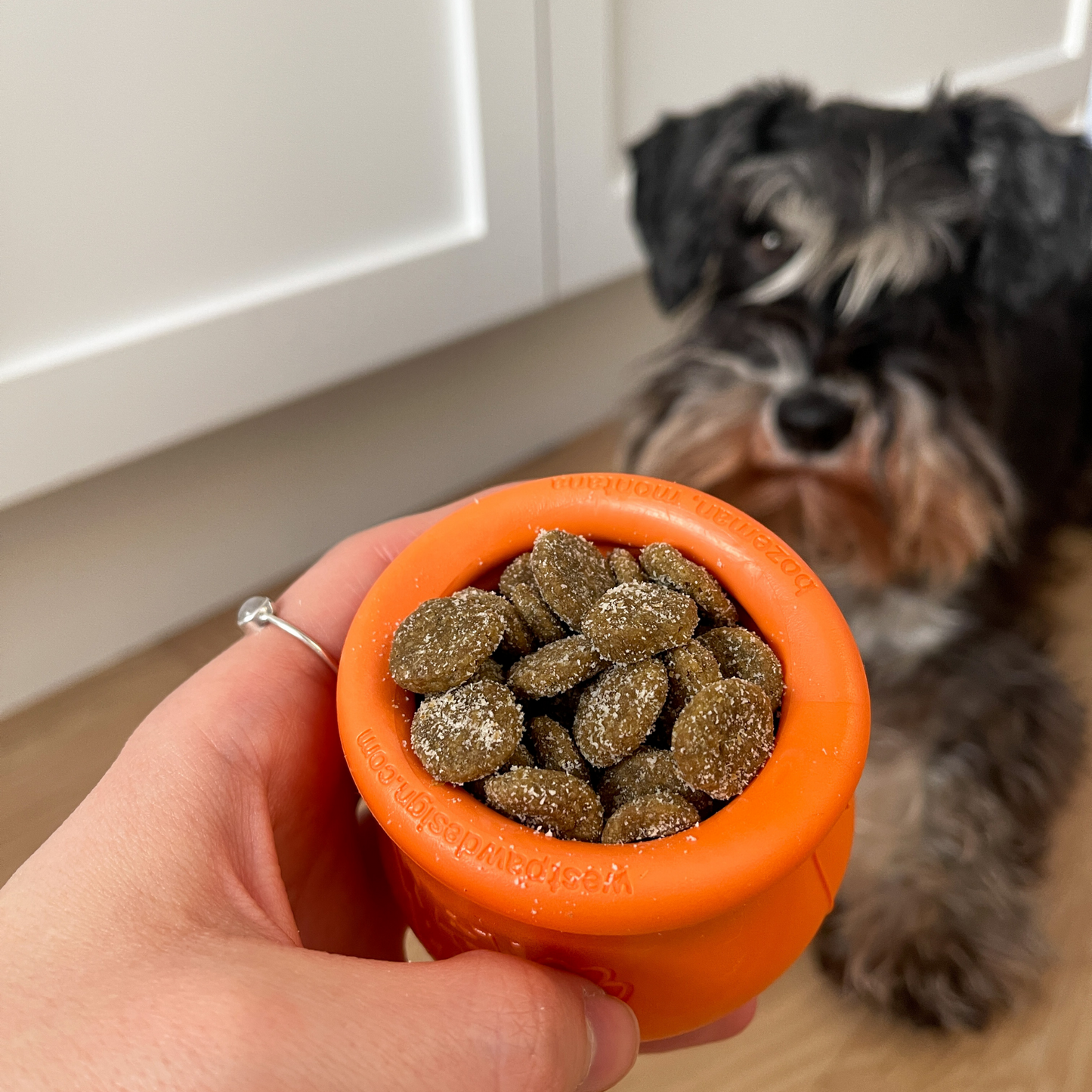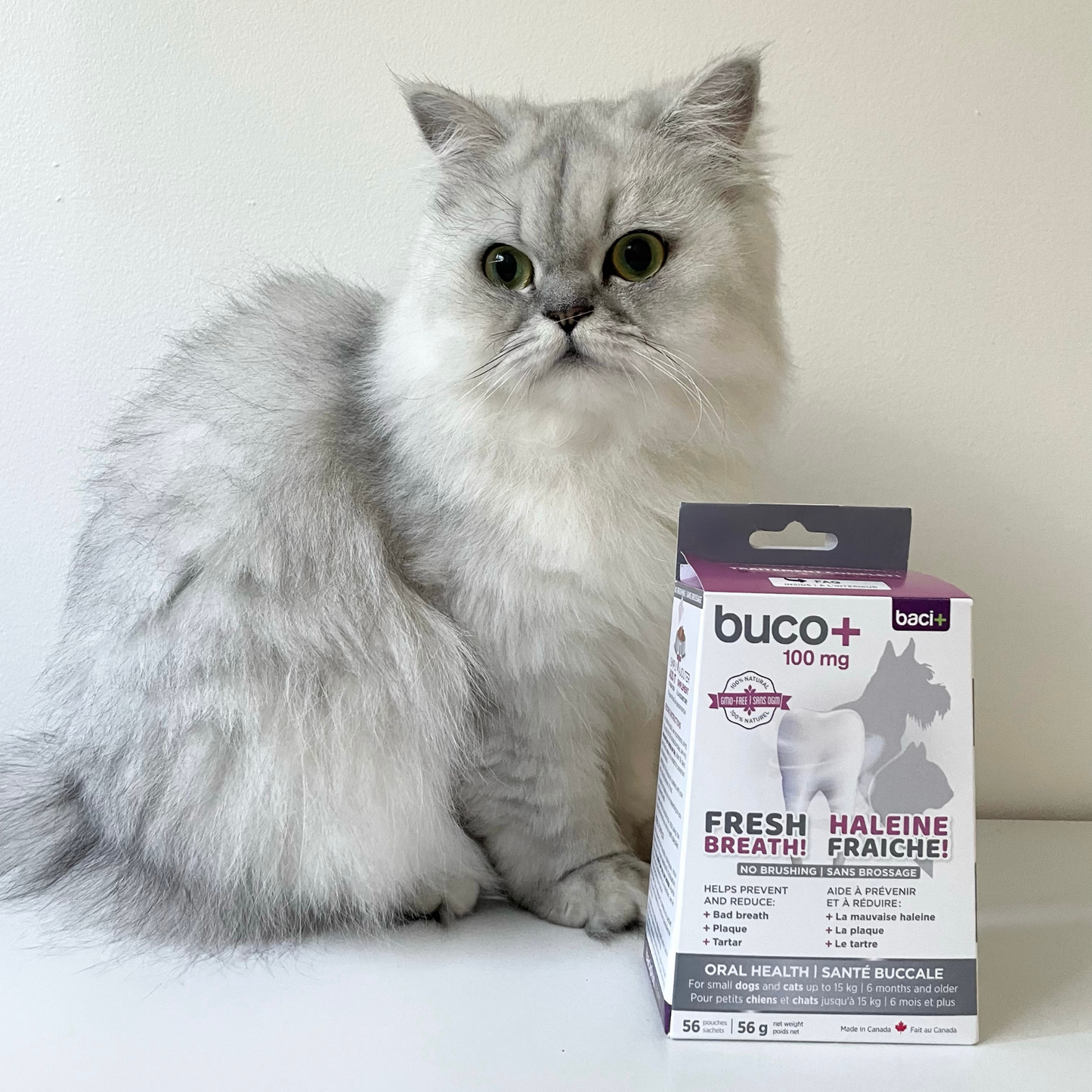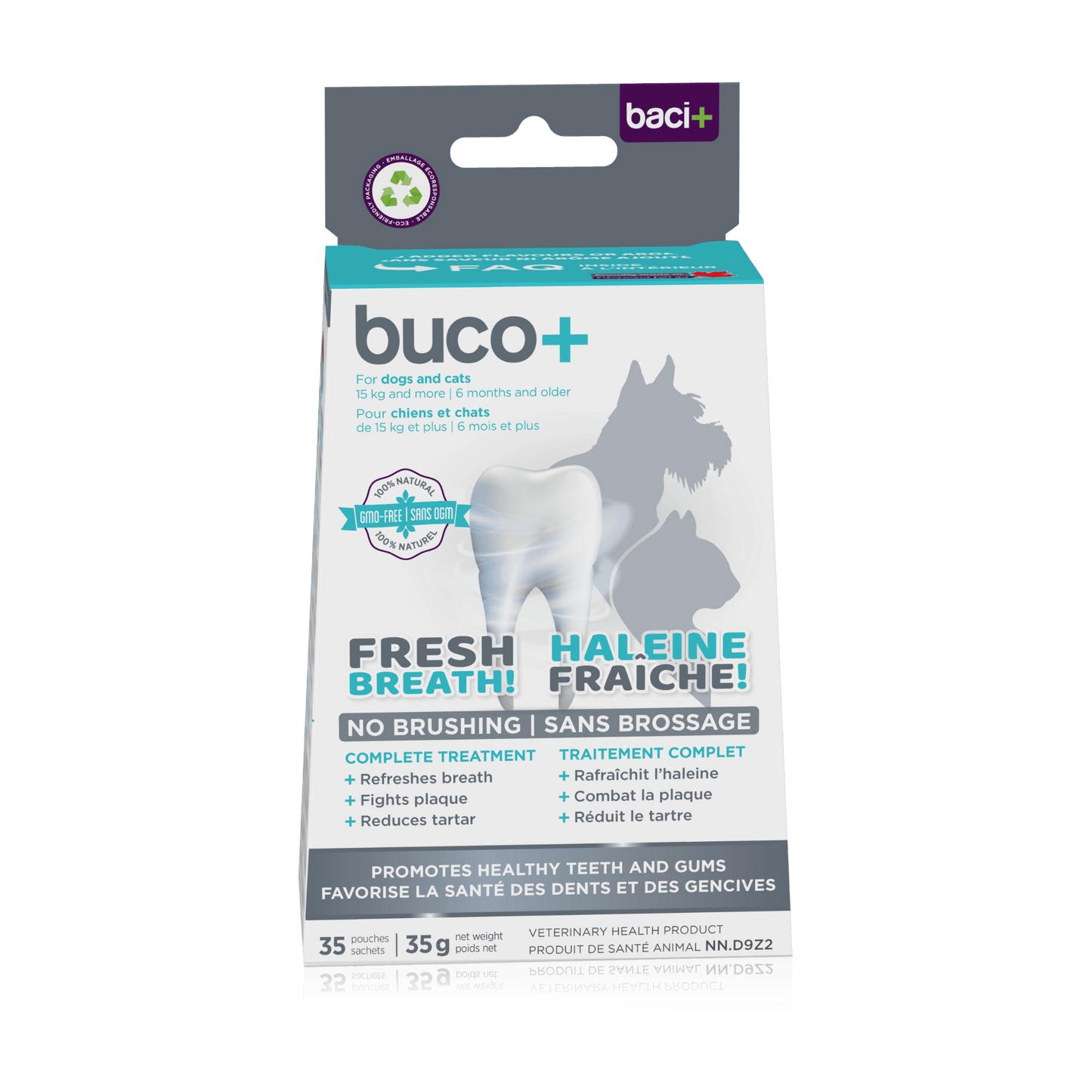 Fresh breath, healthy teeth and gums, without having to brush!

If you forget to brush your pet's teeth every day or if your pet does not agree to have their teeth brushed, buco+ is the solution to keep your mind at ease.


Simply sprinkle buco+ on their food to prevent and reduce oral problems such as bad breath, plaque, tartar and thus avoid more serious health problems related to poor dental hygiene.

100% natural and balanced formula

Avoid serious health problems related to poor dental hygiene

- Top-quality functional ingredients

- No fillers

- Safe and effective product with clinically proven results

- Ethically tested

- GMO-free

- Quick-acting

- No aftertaste, no added flavours (does not affect your animal's food consumption)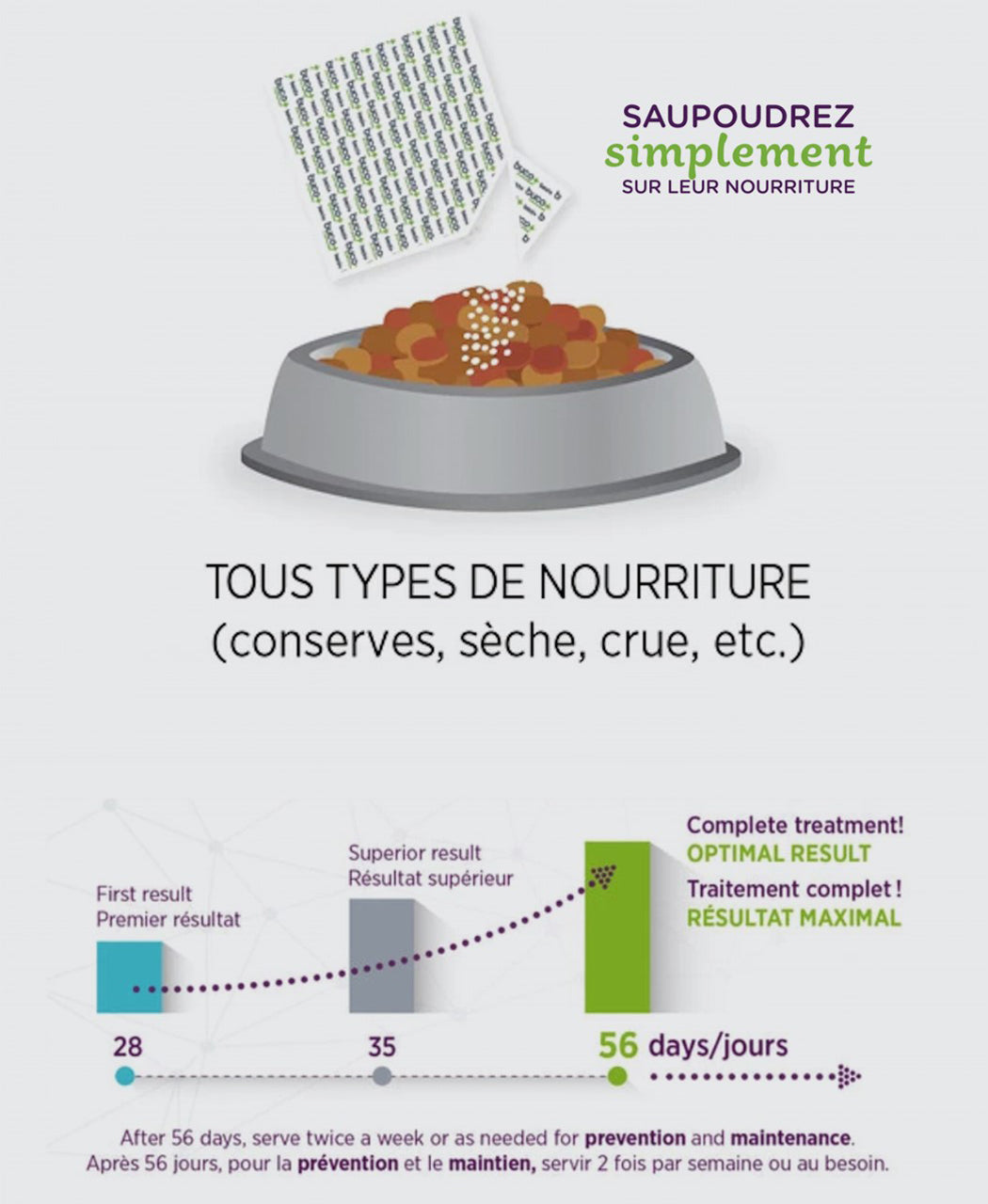 Ingredients
Pharmaceutical-grade prebiotic fiber (dextrin), Ovo protein (egg yolk), Bacillus subtilis.
Veterinary health product NN.X6I3
Directions
Sprinkle one pouch per day on your pet's food for a minimum of 35 consecutive days and up to 56 consecutive days.
For prevention and maintenance, continue giving twice a week, or as needed.
If your pet eats two meals per day, mix the pouch's contents with both meals for maximum results.
- The rapidity of results may vary depending on your animal's general oral health.
- Store in a cool, dry place.
- Do not refrigerate.
All baci+ products are safe to use together, for optimal overall health.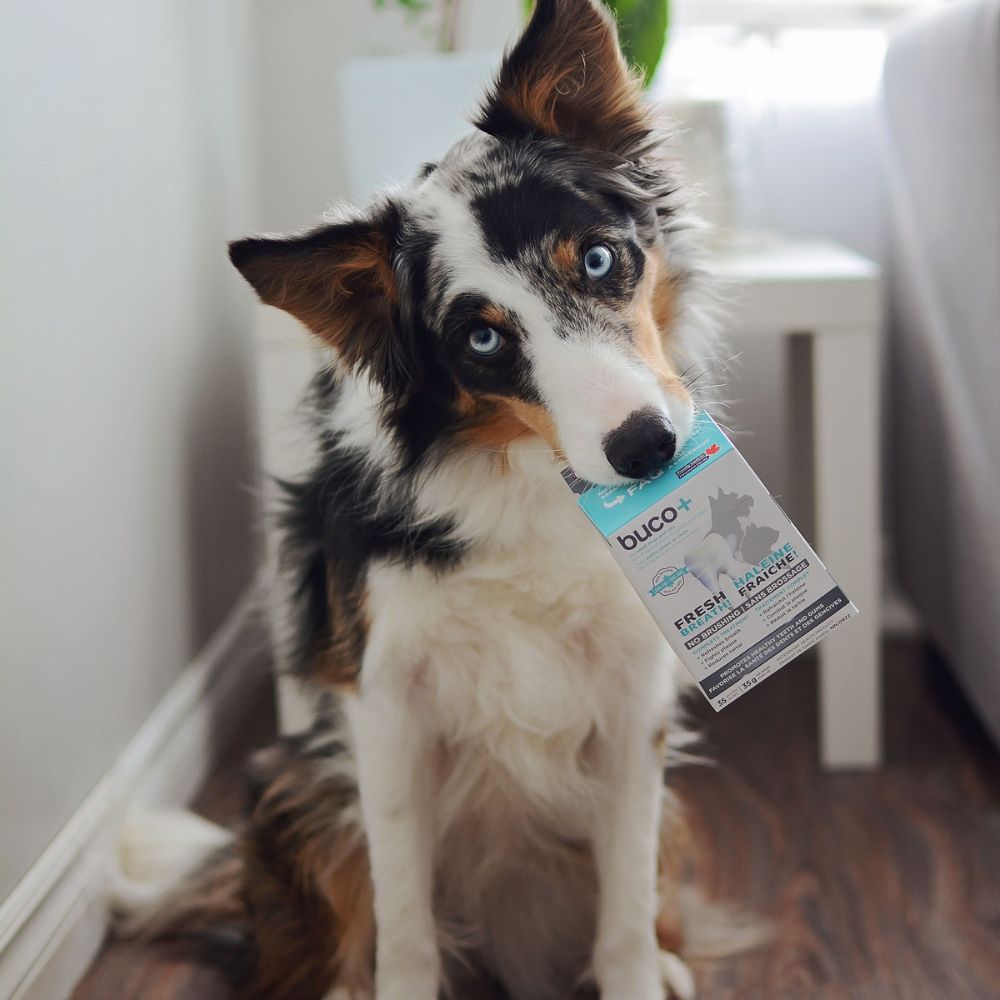 Mode of action
Some anaerobic bacteria that are naturally present in the mouth cause bad breath by emitting sulphur-containing compounds.

Food residue and certain oral bacteria cause plaque to form. Due to calcium deposits, the plaque hardens, forming tartar.
Another group of oral anaerobic bacteria naturally present in the mouth, Porphyromonas, produces a destructive enzyme called gingipain.
Gingipain attacks and breaks down the mouth's natural defences, damages the oral cavity and increases the proliferation of anaerobic bacteria, causing bad breath and plaque. This affects the health of the gums and can eventually lead to tooth loss.
buco+ contain an exclusive ingredient that neutralizes gingipain and its toxic effects.

Did you you that 80% of dogs and 70% of cats show signs of oral health problems from a young age?
buco+ is a great way to ensure your pet's oral health!
buco+
Regular price
Sale price
$41.00
Unit price
per
Sold out
buco+ 10 days
Regular price
Sale price
$22.00
Unit price
per
Sold out
Testimonials
He's now 8 and a half years old and still has all his teeth!

" I adopted my Italian greyhound when he was 4 years old and he had bad teeth. I had to have him descaled, and I was told he was probably going to lose a few teeth in a year or two. I started brushing his teeth and giving buco+ every day. He is now 8 and a half and he still have all his teeth and the vet told me to continue what I was doing because it clearly worked! I just wanted to thank you! "

My picky cat approves!

" My picky cat eats her food with the buco+ added to it without any problem 😍 "

Helps my 13 years old dog!

" Oreo is a 13-year-old retired service dog. Because of a heart murmur I cannot have him descaled and thanks to your product, its breath has improved a lot! "
buco+ prevents the emergence of tartar, but also eliminates tartar that is already there. We recommend giving buco+ for 56 consecutive days when using it for the first time (1 small bag per day for 56 days) in order to reduce the tartar that's already there. If the tartar is really abundant, it might be necessary to give it for more than 56 consecutive days. It's possible to give buco+ every day until the tartar has completely disappeared, and this without any risk. The number of days necessary to decrease and eliminate the tartar that is already there will depend upon each individual pet.
All our products are created with the pet's general well-being in mind. No ingredients used in buco+ will generate digestive problems. The only protein used in buco+ is egg yolk that is easily digestible. Most animals that have egg allergies or intolerances react to the white (albumen) of the egg.
Absolutely! Prevention is always the ideal approach. However, it isn't necessary to give buco+ for 56 consecutive days when used for prevention purposes. Suffice to begin as a maintenance routine, namely, twice a week.
Yes! buco+ can be added to raw or wet food without any problems. In order to ensure the product's effectiveness, make sure that you properly mix the powder into your pet's meal with a fork in order to avoid having only the powder sitting there on top.
Absolutely! Brushing your pet's teeth is an excellent routine and we recommend to not stop doing so if it's already a habit. If you brush your pet's teeth however, don't start until 30 to 60 minutes after having given them buco+ in order to allow the latter enough time to do its job in your pet's mouth.
buco+ doesn't require the mechanical motion of chewing, but is activated rather when it comes into contact with your pet's saliva and gums. Unless your pet eats their whole meal in one single mouthful, buco+ should be effective. With each mouthful that your pet ingests, buco+ comes into contact with their saliva and gums and an appropriate amount will remain in their mouth.
Yes! Even if your dog is very small, it will need 1g (1 small bag) per day. There's absolutely no danger! If an entire bag adds too much powder to the portion of food, you can give your pet ¾ of the small bag every day.
buco+ contains no added flavouring in order to not affect the consumption of the food. Most animals don't even notice any difference (and others adore the taste!) If your pet is difficult, we recommend beginning gradually by adding only ¼ of the contents of a small bag and making sure to mix it very well into the food. If the pet accepts buco+ in a small quantity, you can then increase the proportion gradually until the whole bag is mixed in.


If your pet really doesn't want to eat their food with the buco+, you can give it to them in a spoon with wet food, such as plain yogurt, unsweetened apple sauce or pumpkin purée.