Regular price
Sale price
$38.00
Unit price
per
Sold out
For residential chicks and hens | all ages
For chickens in great health, active and feeling good in their skin (and feathers).
A safe, natural way to strengthen the immune system when antibiotics are not desired.
Powder formula - 100 g
(Good for approximately 48 weeks of use, for 1 hen)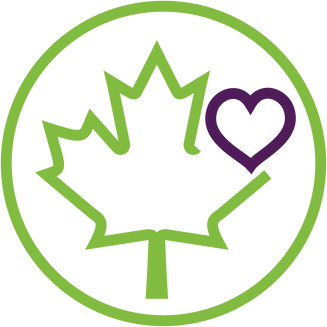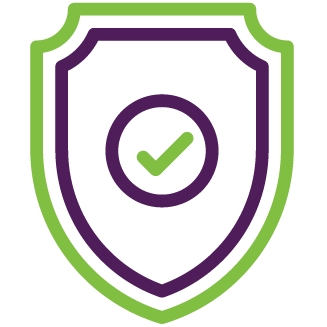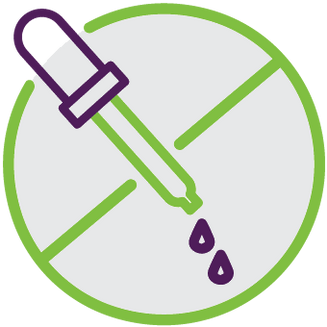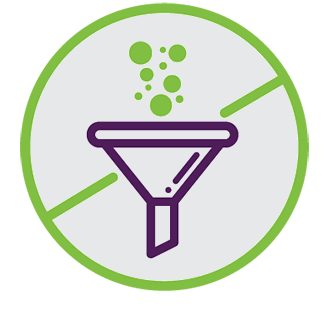 View full details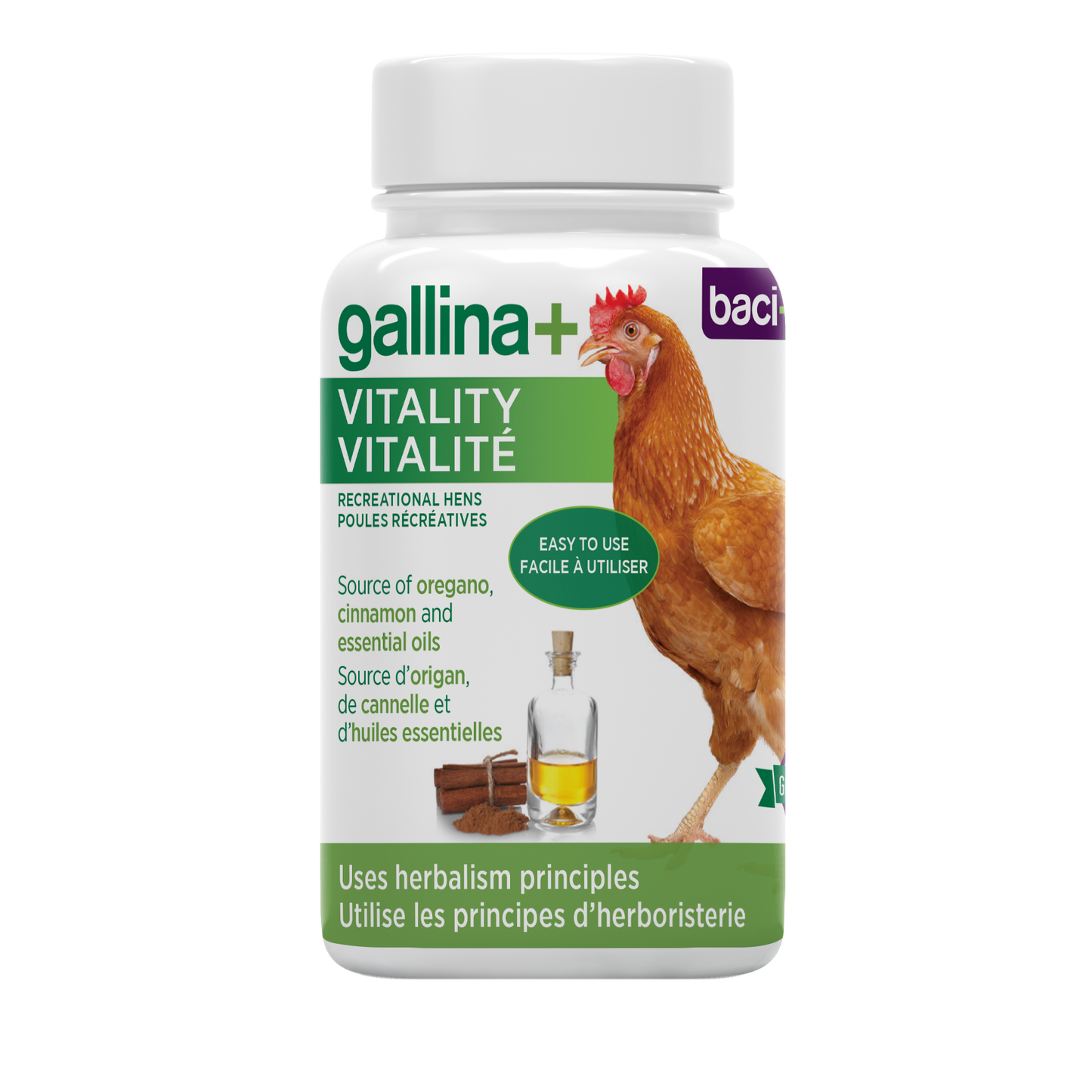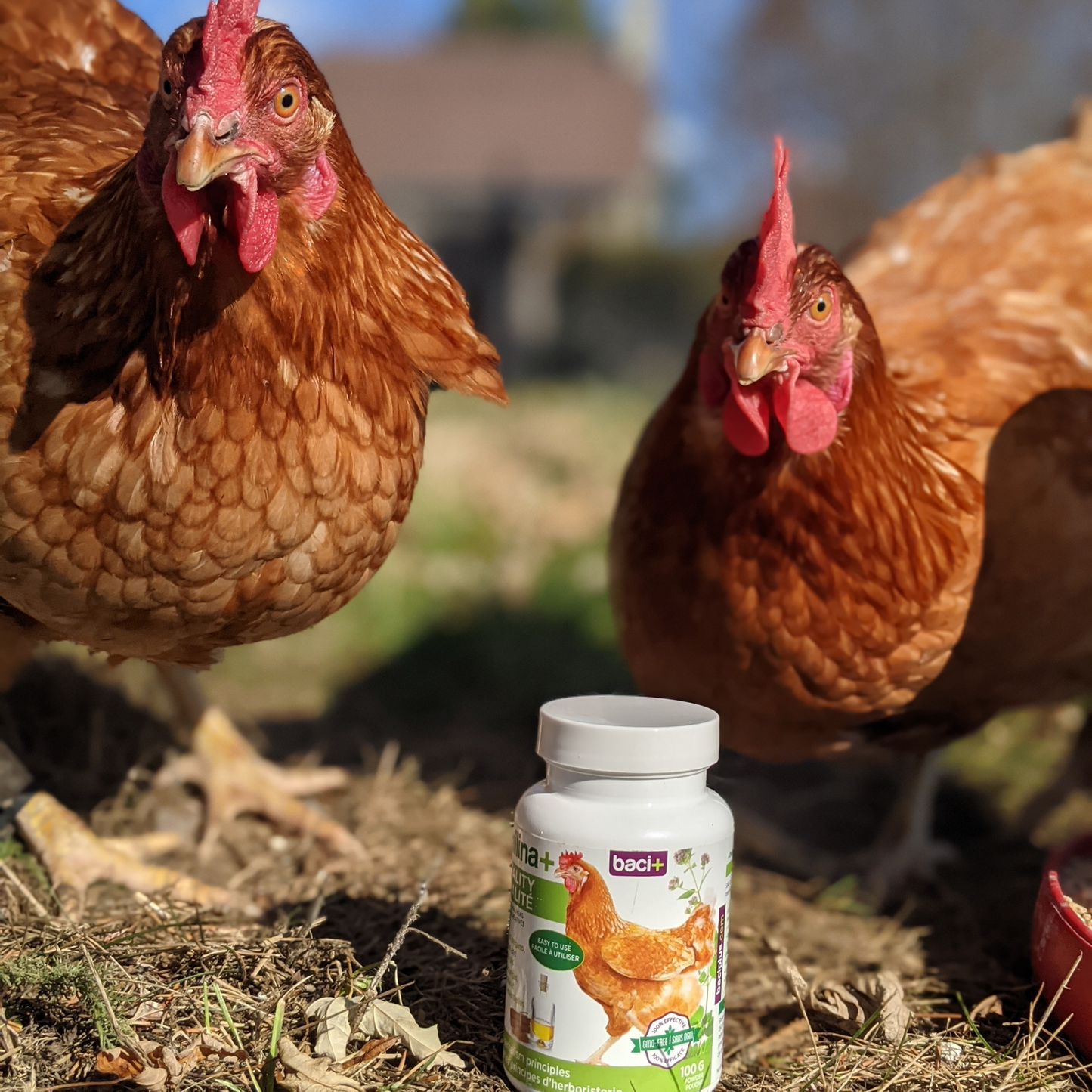 For chickens at their best, naturally

Specifically formulated for chicks and hens to :

- Boost energy

- Encourage greater water consumption

- Improve muscle and nerve function

- Strengthen the immune system

- Stimulate appetite in periods of stress

Excellent source of :

- Oregano

- Sage

- Rosemary

- Cinnamon

- Essential oils

Natural and balanced formula

The baci+ difference :




- Top-quality functional ingredients

- No fillers

- Uses microbiology and herbalism principles

- Effective product with clinically proven results

- Ethically tested

- 100% natural

- GMO-free

- Quick-acting

- Easy to measure dosage and to administer

- Safe

- No aftertaste, no artificial flavours (does not affect your animal's food consumption)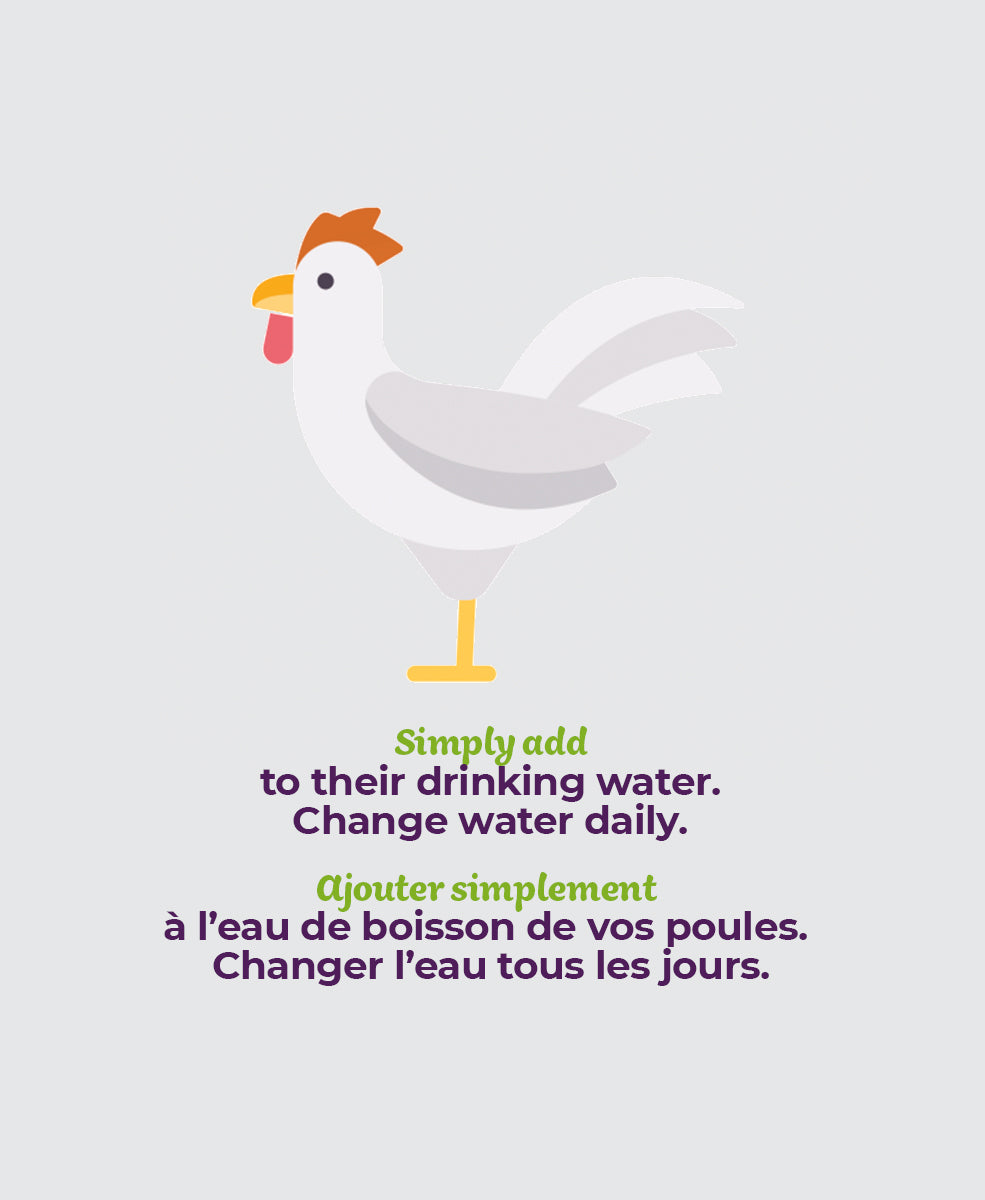 Ingredients
Salt, Citric acid, Maltodextrin, Extracts of oregano, rosemary, sage and cinnamon, Natural flavourings.
Veterinary Health Product NN.M3K4
Guaranteed analysis per gram:
- Salt: 56.1% (min.), 56.6 % (max.)
- Citric acid: 30%
- Oregano: 8%
- Rosemary: less than 1%
- Sage: less than 1%
Directions
Shake well before using. Mix 1 g per 250 ml of drinking water, per chicken. Change water daily.

For optimal results, serve 2 times a week.
Note that hens need to drink around 250 ml of water per day.
- Keep at room temperature, in a dry place.
- Close the container immediately after use.
- Avoid contaminating the product.
- Not intended for agricultural or commercial use.

All baci+ products are safe to use together, for optimal overall health.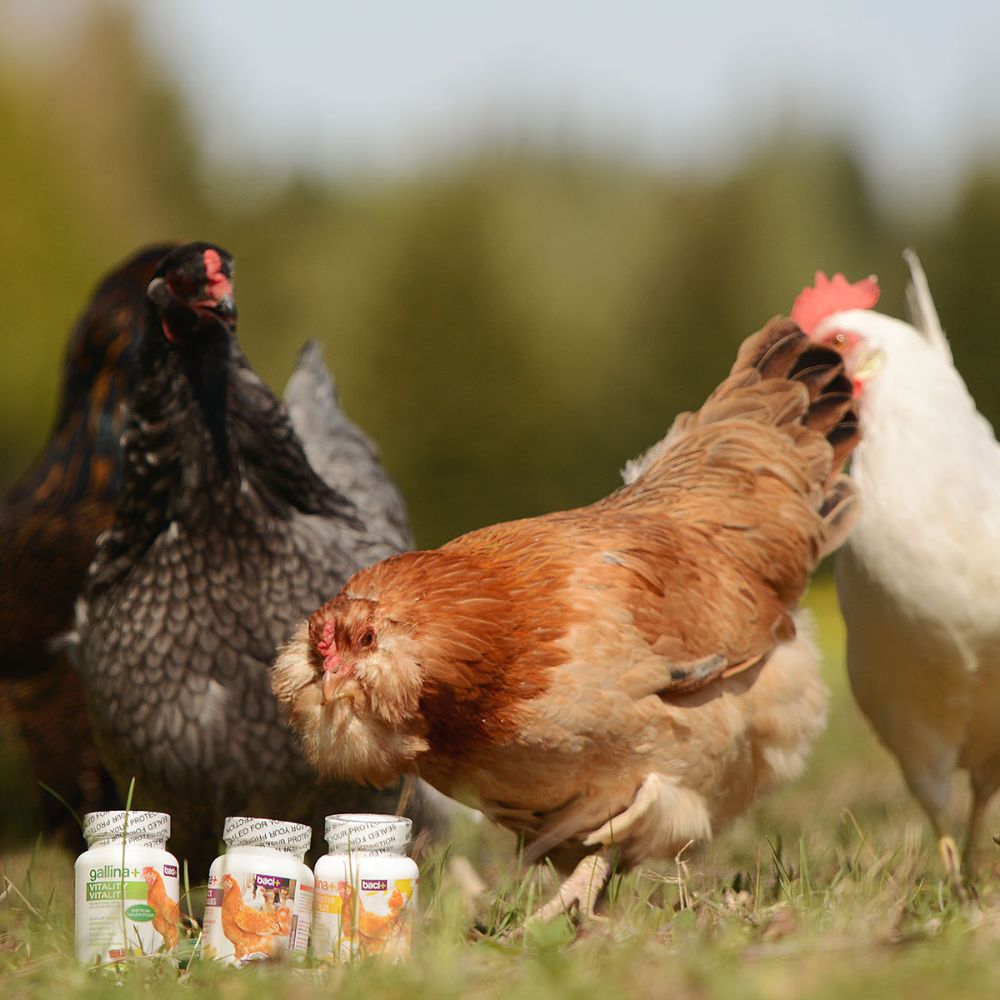 effective, synergistic ingredients
Salt:
- Encourages food and water consumption
- Improves muscle, nerve and immune function
Citric acid:
- Organic acidifier that reduces the growth of many undesirable intestinal bacteria
- Reduces the gastric mucosa's inflammatory response
Oregano:
- Acts as a powerful anti-infective, antioxidant, antiviral, antibacterial, antiparasitic and antifungal
- Clears the respiratory system
- Strengthens the immune system
- Fights asthenia (fatigue and weakness)
Sage:
- Acts as a powerful antiseptic, antiviral, antibacterial and anti-inflammatory
- Clears the respiratory system
- Strengthens the immune system
- Supports the intestines and liver
- Stimulates appetite
- Contributes to healing
- Acts as a diuretic
Rosemary:
- Thins mucus to aid with its evacuation
- Acts as a powerful antibacterial and antifungal
Cinnamon:
- Acts as a powerful antioxidant, antibacterial and anti-inflammatory
- Strengthens the immune system
- Eases digestive problems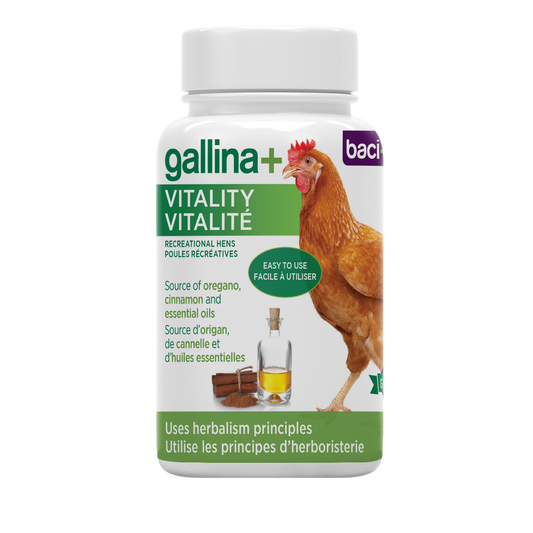 gallina+ vitality
Regular price
Sale price
$38.00
Unit price
per
Sold out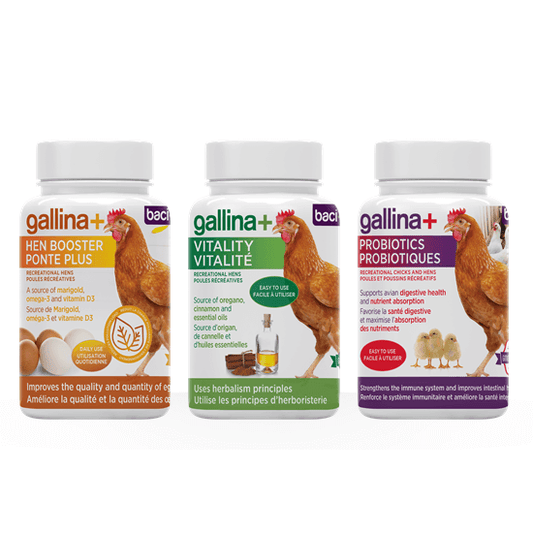 care kit for hens
Regular price
$114.00
Sale price
$104.00
Unit price
per
Sold out
Testimonials
My chickens love it!

" During the colder months, it's good to give our hens supplements to help them adapt to our winter. For 2 years, I have been giving gallina+ Vitality. My chickens love it because I notice that they drink more the 2 times a week I dilute them in their water and they go out like it's 25 degrees. "

- Rachel

I use vitality to help her adapt to climate change during the winter!

" I frequently use gallina+ products for my 3 chickens. I've had them since they were chicks and offered probiotics from spring to fall to help them grow well with a good immune system. As soon as the cold comes and the days get shorter, I use vitality to adapt to temperature change to allow them to have enough energy for the cooler periods "

- Joanie

My eggs have completely change!

"After 2 months of using the hen booster, my eggs became much more solid and homogeneous!"

- Isabelle